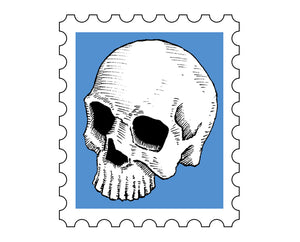 NOTE: NO REFUNDS! PLEASE READ THIS WHOLE PAGE BEFORE PURCHASING!
Now offering a $1 shipping rate for GREETING CARDS ONLY (Limit 3 per order, shipping within U.S. only).
Your card(s) will ship in a flimsy paper envelope, with just a regular USPS postage stamp, so you will not receive a tracking number.
If you choose the Bare-Bones shipping option, you are assuming the risk that your order may arrive damaged, or may not arrive at all. NO REFUNDS ON ANY BARE-BONES SHIPPING ORDERS.

If you're sure you want to accept that risk - and you're also sure that you're ordering GREETING CARDS ONLY, and no more than three of them - add BARE-BONES SHIPPING to your cart along with your cards. You'll still have to choose the USPS First Class Package shipping option at checkout (Though I will be sending it as a First Class Letter), but $3 will automatically be deducted from your total to cancel it out, meaning you'll pay just $1 for shipping.
To recap, add this to your cart and you'll pay only one dollar for U.S. shipping, but you don't get a tracking number, and there's no refund if your order arrives damaged or goes missing in transit. Totally up to you whether the savings are worth the risk!
(Offer currently only open to U.S. customers, but if you live somewhere else and like the sound of this deal, you should use the contact link at the top of this page to reach out!)